What our customers say...
Mick says:

"I have suffered from chronic knee pain for many years. When you suggested that I try you magnesium jelly I was sceptical but I gave it a go not really expecting much improvement. Within three weeks of applying the jelly to my knee twice a day I have stopped wearing my brace, the swelling on my knee has gone down, I do not have any sharp pains and I can walk up stairs without limping or even holding onto the hand rails.
So for me this is a miracle thing."
Pav says:

"Hello Michael, I have bought your product Mg jelly 3 weeks ago. Yesterday I walked a lot and suffered severe legs cramps and swelling in knees/feet.
I used mag spray, karma drops to no avail. Then I remembered jelly which I stored in fridge. I used it (even the crystals) and cramps disappeared. I slept without pain. In the morning, swelling was totally gone.
BIG THANKS for your remedy. Wonder product. Xx Grateful."
Nicole says:

"Mizzi's salt is amazing, last night I cooked the most beautiful pasta sauce and Mizzi's salt really brought out the flavours. I own The Ugly Mug Broth Kitchen at the Manning Farmers market, I use Mizzi's salt in my broths and the customers love it!"
Our most popular Natural Salt & Clay Products
Mizzi's - Totally Natural Skin Care Products
Mizzi's products are truly unique.
Our clay, salt and bush plants are hand picked, cleaned and packaged to ensure only the highest quality.
Our skin care products are created with our unique salt, clay and plants such as the salty sapphire, salt bush and other plants, crops and herbs that come from the Western Australian Wheatbelt. We passionate to deliver the best natural skin care products.
Natural Soaps
Face Masks
Salt Scrubs
Soap and skin care materials
Gourmet Salts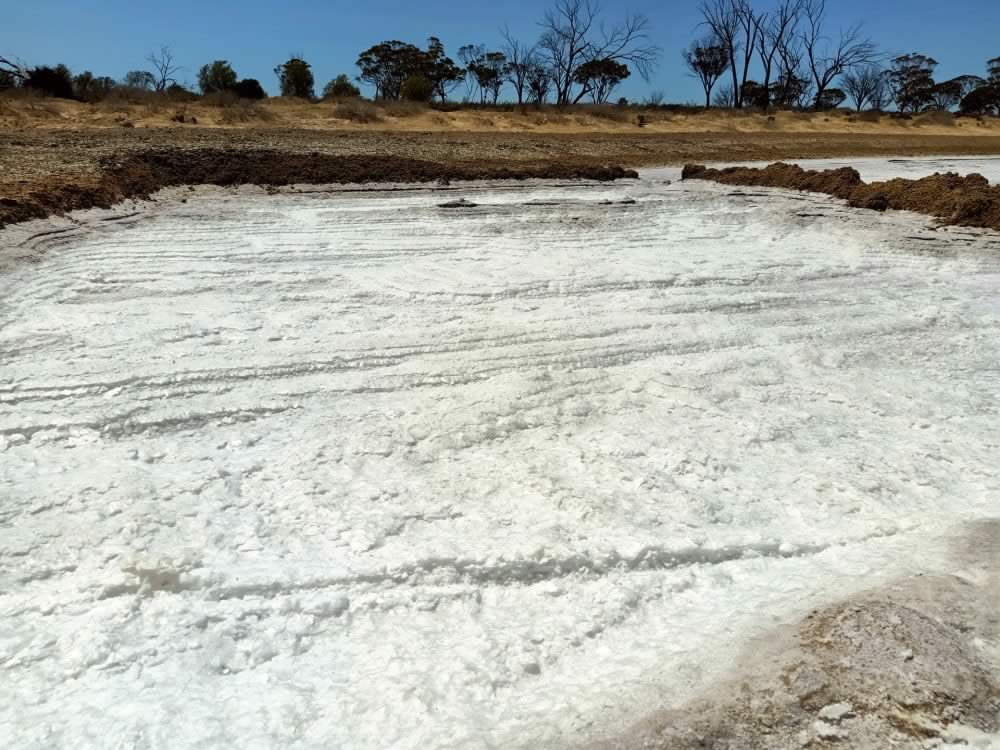 January 8, 2021
Purity Most Desert Salt comes from underground ancient seas pumped into salt pans which is…
All products are made in Australia with Australian ingredients
Supporting local business #supportlocal #natural #mizzis
About Mizzi's Oasis – Natural Salt & Skincare Products
Doodlakine, Western Australia
We specialize in doing the best gourmet salt products and supplying the skin care industry with our unique brine, salts, clays, quartz powder and hardy salt and sun tolerant plant powder and essential oils. Our rich brine has 15% salt, natural acids, minerals and trace elements perfect for skin care products as nature intended. We have Red Ochre Clay,  Yellow Clay, Pink Clay, Olive Green Clay, Gray Clay, White Clay and above all Black Clay. We can also provide our products in bulk.
The gourmet salts we do are really amazing due to the abundant natural minerals in our brine which is harvested from ancient seas under the ground.
Our oasis is located in South Doodlakine about 200km east of Perth along the Great Eastern Highway. The ancient Yilgarn river passes through our land and we harvest its underground brine which is full of amazing natural salts, minerals, different clays and hardy salt plants. Its brine is very old and this paleo (ancient) river passes under the ground slowly flowing to the Indian Ocean.
What makes our artisanal hand-harvested salts and clays unique are all the natural minerals and acids in them and combined with our hardy salt tolerant plants on our land are quite amazing for skin care products. This is because these plants have to protect themselves from the harsh sun and their goodness really helps in rejuvenating and protecting the skin. When we harvest the plants we do it in a sustainable way so they can regrow and enhance the land. The clays under the strong Australian sun have broken down our clays in helping to leach its minerals. We harvest our different salts, clays and plants with love and passion.
This family owned company is fully Australian owned that produces that best gourmet salt and skin care products for the Australian and International markets.
Checkout the composition of our flagship Desert Salt Flakes.
Totally pure and natural using only the brine and the sun.
NO fossil fuel and NO Chemicals used.
Support and Buy Australian Products.
Our top selling product is the Desert Salt Flakes – Fleur De Sel 450g pack.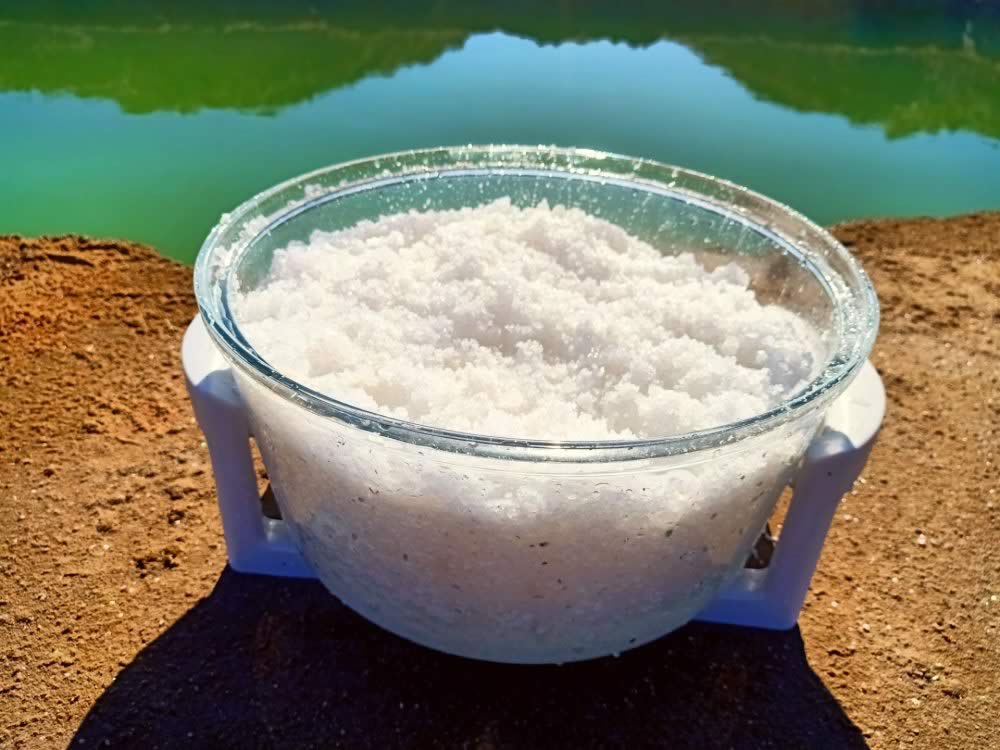 Minerals and trace elements breakdown of what is in Mizzi's Brine and Salt
Chloride 59.7%, It helps maintain proper blood volume, blood pressure, and pH of your body fluids.
Sodium 31.09%, Balances fluids in the body.
Magnesium 3.78%, Magnesium is vital for the proper functioning of hundreds of enzymes.
Natural Sulphates 2.92%, Assists in detoxification of the body.
Sulphur 0.998%, Improves skin rejuvenation.
Calcium 0.97%, Imperative for bone health.
Potassium 0.37%, Lowers blood pressure.
Bromide 0.0998%, Its essential for tissue development.
Strontium 0.024%, Boosts bone formation.
Aluminium 0.02%, Providing a safe barrier to bacteria and contamination in food.
Manganese 0.0043%, Strong antioxidant properties that helps to reduce disease risk.
Boron 0.0018%, Supports metabolic processes.
Iodine 0.0015%, Promoting thyroid health.
Selenium 0.00035%, Boosts your immune system.
Zinc 0.00023%, Regulates immune function.
Molybdenum 0.000136%, Acts as a cofactor for important enzymes.
Flourine 0.000128%, Used to improve dental health.
Nickel 0.000143%, Is an essential nutrient in some chemical processes in the body.
Iron 0.0001%, helps to preserve many vital functions in the body.
Lithium 0.000047%, Known for its mood stabilizing properties.
These minerals and trace elements give our salt a special mild pleasant taste that lingers on the tongue and help in creating the nice pyramid, cube and flat salt flakes. We preserve these minerals and trace elements by washing the salt (from clay, leaves and other natural debris) with our brine at the salt farm. Fresh water instantly clears these minerals leaving the salt with a harsh sharp taste like common salt.
The initial floating salt crystals that usually start forming on the salt pan surface are called Fleur De Sel which is the king of salt due to its high mineral content and have a long mellow taste. Its perfect to use on salads and non cooked food items to preserve the delicate taste of this salt.
All our salt is hand picked, washed and packed to retain the best quality.
Another important note is that since our salt does not come from the sea it is NOT contaminated with lots of micro plastics, oil, and other nasty pollutants in the ocean such as the radioactivity that leaked from the nuclear reactor in Japan. Our salt is pure and fully organic. We use solar energy to power our salt farm to minimize carbon emission as much as possible.
Paleo River is a trading name of Mizzi's and is NOT linked to any TV personalities. The Paleo part meaning ancient and River relates to the Yilgarn River that passes though our salt farm.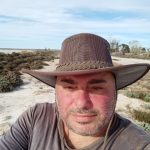 John Michael Mizzi
Founder / CEO
Enjoy our amazing natural salt & clay products
Follow our journey on Instagram